Abbi Shade Veterinary Assistant and Receptionist
Hello! My name is Abbi Shade. I am the vet assistant and receptionist at Germantown Animal Health Center. I will usually be the first person to greet you when you call or arrive for an appointment. I love my job and being able to help everyone's fur babies. Covid-19 does make things more challenging at the clinic though. I know many people miss being able to come into the clinic with their babies and that it is hard not to be with them. Hopefully, I can ease your minds a bit by letting you all get to know me better, seeing as I will be helping to look after all of your pets while they are in the clinic.
I am a very outdoorsy person and I love animals! If that part wasn't already obvious 😊. I have 2 dogs of my own, mother and daughter, that are my hip attachments. I also have a young thoroughbred horse that I love deeply. In my free time, I enjoy fishing, hunting, riding my horse, playing video games, and spending time with family and friends. (Fun fact: I use to fish bass tournaments a lot growing up in different divisions.) I hope to someday go to veterinary school or become a veterinary technician. For now though, I am just learning as much as I can. I am Low-Stress Handling™ Certified Silver so that I can better care for your pets when they are with me. I plan on continuing to learn all I can to be sure you and your pets have the best experiences possible!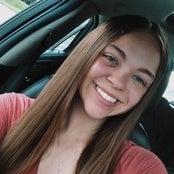 Ally Mead
Hi. My name is Ally Mead. I am currently a student at Sinclair Community College studying Veterinary Technology. I am Low-Stress Handling Certified Silver to be able to better understand your pets and their behavior. I have quite a few hobbies. My favorite is herpetology. I currently own 4 ball pythons and 2 boa constrictors along with a bearded dragon and a leopard gecko. On top of that, I have 3 dogs, one being the childhood dog I've had since I was 6 years old. My not-so furry family also includes a cat who doesn't like many people (Including me.) In my free time, I collect vinyl records, hike, and do homework.